This links list will connect you with where to find everything you need from beads to findings and from patterns to instructions and tutorials.

To find free tutorials and bead patterns
About.com will also direct you to where to find all of your needs.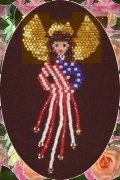 This pretty little angel,
"911 Patriotic Angel"
was designed by:
Rita Sova
I beaded this one with the brick stitch.
Click on the angel and you will be transported to Rita's wonderful site, where you will enjoy yourself for hours. I'm sure you will find plenty on her site. Check it out. I'm sure you'll be glad you did. :)